Dirk |
Film Fanatic
15 Feb 2010
Ok so according to Summit Entertainment – the same wonderful people who've given us the lamentable Twilight and its lamentable sequel – there's a "re-imagined" version of Highlander the original Highlander in the offing.  But back in 1986 Frenchman Christopher Lambert, a played Scot Conner MacLeod … Scot Sean Connery played well Sean Connery aka Egyptian Juan Sanchez Villa-Lobos Ramirez and Ohioan Clancy Brown played a walking umlaut,  punk, "Kurgan" bad-ass – from the  dawn of time and the Russian Steppe – Victor Krugar.
Yeah it spawned awful sequels, an animated version, a television series, another television series but  there  had never been anything quite like it before and like Flash Gordon before it boasted a great soundtrack courtesy of Queen. The new incarnation isn't being called a sequel but a "reinvention" of the original. Which is just never a good sign. So before the folks at Summit get a chance to retroactively sand-blast the cool haze off  one of my childhood  remembrances I asked my buddy Chuck to chime in for a quick preemptive re-imaging casting session.
Of course this entire exercise  may leave anyone who happens to have come in late wondering why anyone – even an unrepentant nerd like your friend and humble narrator – would bother to care. Well, that's an easy answer that's easy to forget. First there's the whole thing where now that a couple of genre offerings like Highlander open every other month it's tempting to forget how wasn't always even almost the case.  So let's take a quick trip back to 1986.
Back then, including Highlander there were nine – yes that only said nine – other genre films in theaters … Big Trouble in Little China, Aliens, Star Trek IV: The Voyage Home, The Fly, Howard the Duck, Invaders from Mars, a Friday the 13 sequel and Nomads. O' and I mean nine for that whole year not nine during the summer.  For comparisons sake I should probably pause here to point out that its only a month and a half into 2010 and there have already been six genre films released and there are more than twenty more on the way.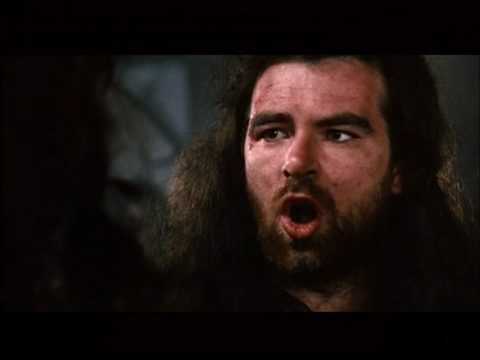 I only mean to point out that when something like Highlander came along back then, it was appreciated. And more importantly unlike basically everything else on that short list – except Nomads and Big Trouble – Highlander was an original … not a sequel … not an adaptation … not an updated take on an earlier popular work or a low budget take on something new and popular [feel free to see The Ice Pirates for a typical Star Wars rip-off and or Firewalker for your basic Raiders of the Lost Ark clone] … It was an original and despite its cheese factor flaws,  it was also pretty darn original. As a result it's been – well –  influential. Which is frankly just a polite way of saying that it's been cribbed from so often in the years that followed that no one even notices anymore.
When you were watching that Angel vs. Lindsey sword duel face off in "You're Welcome" … that was Highlander's influence, when Selene sliced the top of Viktor's head at the end of the bits from better flicks theft fest known as  Underworld, that was Highlander, the ubiquitous swordplay in the Blade films, that was Highlander [in the comics Blade only carried wooden knives], the sci-fi swordsmanship in Equilibrium, Ultraviolet and so and so forth on the big screen and the little screen are echoes of Highlander – so it deserves more than the limp remake we're likely to get out of today's Hollywood … In the same way that Twitch of the Death Nerve gave us the during sex slasher murder, the Crow left behind the genre film alt rock soundtrack and the Road Warrior the post apocalyptic mohawk, Highlander left behind genre elements  from the  trenchcoat clad hero to the modern-day-future sword duel throw-down to a range of now-standard tropes  to numerous to be either missed or dismissed.  Hence my willingness to spend a few moments imagining what a remake might look like if anyone involved gave a damn.
First, Here are Chuck's pick's …
I am assuming that you expect all the characters to remain true to type. That is, Ramirez will continue as an Egyptian, with the Spanish backstory. Castagir will still be a Moor, all genders to remain the same, etc. Unfortunately I expect that if the franchise is indeed rebooted, either the hero or the Kurgan or Ramirez will end up being a female. In spite of this, here are my choices:
Connor MacLeod / Russell Nash: probably best going to a newcomer
Brenda Wyatt: Evangeline Lilly
Heather MacLeod: cast a newcomer
Rachel Ellenstein: Jane Seymour. Definitely.
Sunda Kastagir: Jeffrey Wright
Iman Fasil: does it matter?
The Kurgan / Victor Kruger: Gerard Butler (but the more I think about this I have my doubts) and believe it or not, I think Vin Diesel could also do it but it would take some work.)
Juan Sanchez Villa-Lobos Ramirez ["Tak-Ne"]: Robert Carlyle .. and before you write that choice off, consider that he successfully pulled off playing a Balkan terrorist in "The World is Not Enough", and it wasn't until years later when reviewing his work I discovered that he was in there. He disappears into roles when called to do so. Forgive him for that phoned-in stinker Eragon.
Your question left out two important roles, that of the police detectives.  Also Garfield the bastard cop. How could you forget what was arguably the best work Jon Polito did in his early career? Also Garfield the bastard cop. What about Dugal and Angus?  [Note: I didn't so much forget them as think that someone re-writing it I might leave that whole side story out. At least I would in favor of more Rachel "flashbacks" and probably more Brenda.] Here's some potential bodies: Dugal: Rhys Ifans .. Angus: Henry Ian Cusick .. Lieutenant Moran: David Morse .. Detective Bedsoe: Sam Rockwell .. Garfield: Doug Hutchison
You may notice that more than a few of my choices have performed on Lost. This is a coincidence. The cast of Lost is by now so enormous that it could be a county on its own, and its hard to pick people who haven't been on it or are a degree or two away from it.
Now, here are your friend  and humble narrator's …
Connor MacLeod / Russell Nash: Kevin McKidd … Why? Well let's start with how he's a real live Scot, move on to the fact that he's a rock solid actor who can use a sword pretty freaking convincingly, pay a quick visit to his "crossover" appeal [which just my way of saying that my schizophrenic sister's chick mode loves him on Grey's Anatomy and her tomboy self loves him on Rome] and finish up with how a] Kenneth Branagh not casting him as Thor/Donald Blake was a goddamned crime and b] if the online rumor mill ever gets one right I sure a shit hope it's this.
Brenda Wyatt:  Golshifteh Farahani … Why? Ok so if you've seen her in Body of Lies you don't really need me to answer that question. If you haven't let's just  say that Farahani seems like exactly the sort of forensics technician slash sword expert that you'd immediately reveal your secret immortal identity to.
Heather MacLeod: January Jones … Why? Why the hell not. Jones is beyond talented and frankly should be photographed in period costume as often as possible. She's also kind of a walking argument for why the serious film casting trends born in the 70s suck  serious ass.
Rachel Ellenstein:  Michelle Yeoh … Why? Well because remaking really means updating. In the original Highlander [or at least in the Director's cut of the original Highlander], Rachel was a child holocaust survivor Connor rescued and adopted. But let's be honest people, WW II flashbacks while always fun are getting older than old. Casting Yeoh updates their back-story to Korea, to Vietnam or even – to retain that whole rather effective survivor angle – to Cambodia.
Sunda Kastagir: Forest Whitaker … Why? Easy, saying Whitaker can act is like saying he can eat pancakes but he's also a big guy who can actually use a sword [yeah … that's right … remember mutherfucking Ghost Dog] so he won't seem as much like just a head waiting to get lopped off.
Iman Fasil: Vincent Cassel … Why? Simple, Cassel does action with the best of them and can even use a sword [see Brotherhood of the Wolf] and frankly starting things off by beheading the second toughest man in France [which reminds me, Jean Reno would also be good here] would pretty firmly establish the highlander's "Yeah I'm badass-ness."
The Kurgan / Victor Kruger:  Vin Diesel … Why? I could remind everyone that Diesel can act [see Boiler Room] act, mention his size and action chops but to be completely honest it's mainly his voice. I mean honestly,  at the  end of the day Vin's really the only guy around who could pull off that whole "Nuns, no sense of humor" bit in the Church.
Juan Sanchez Villa-Lobos Ramirez ["Tak-Ne"]: Jean-Claude Van Damme … Why? No one can replace Connery so why even try, besides, Van Damme's persona pretty much is Connery's take on Ramirez so he'd really only be playing himself and Jean-Claude was pretty darn good as himself in JCVD.  Can't say I wouldn't replace the "Egyptian"  in his back-story with some Hittite or maybe some Trojan but damn wouldn't that Kurgen vs. Ramirez battle be damn cool as Damme vs. Diesel.
Final thoughts and bonus points … Well comparing picks ya gotta say it is just plain hard to argue with Evangeline Lilly getting just about any part and I can't honestly say which way I'd pull the trigger if presented with both Jeffrey Wright and Forest Whitaker as options but I'm not so sure about Carlyle …  Now, finally here's a bonus question for you two crazy kids … Would you want to have someone – as in a band – do a whole soundtrack ala Queen's and if so who?
Tags: 986, Brenda Wyatt, casting, Christopher Lambert, Clancy Brown, Connor MacLeod, Evangeline Lilly, fantasy action, Forest Whitaker, Gerard Butler, Golshifteh Farahani, Gregory Widen, Heather MacLeod, Highlander, Iman Fasil, Jane Seymour, January Jones, Jean-Claude Van Damme, Jeffrey Wright, Juan Sanchez Villa-Lobos Ramirez, Kevin McKidd, Michelle Yeoh, Rachel Ellenstein, remake, Robert Carlyle, Roxanne Hart, Russell Mulcahy, Russell Nash, Sean Connery, Sunda Kastagir, Tak-Ne, The Kurgan, Victor Kruger, Vin Diesel, Vincent Cassel